---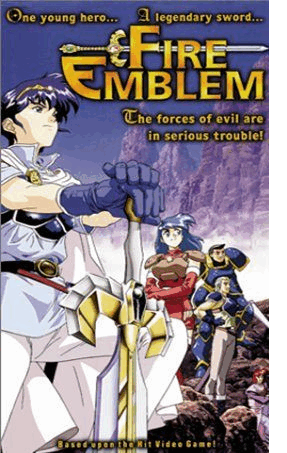 The Fire Emblem Anime is a short anime consisting of 2 episodes, based on the hit game "Fire Emblem: Dragon of Darkness and Sword of Light". This anime wasn't a big hit itself, and failed to continue after merely two episodes, and was then released in Japanese. The 2 different versions are dubbed, or the unedited version without subtitles, and subbed, the version with embedded subtitles.

General Information:

Director: Shin Misawa
Studio: ADV Films
Release Date: November 11, 1998
Format: Animated, Color, HiFi Sound, NTSC
Run time: 56 minutes
Language: Japanese
Subtitle: None/English (embedded into video)

Watch

Fire Emblem Anime DUB
Fire Emblem Anime SUB

Downloads

Both Episodes (WMV)


Buy VHS

VHS Dubbed (Multiple)
VHS Subbed (Multiple)

Buy DVD

DVD (Dubbed)
DVD (Subbed)

Report a Broken Link.

Plot Summary: Once, in a time before the first histories were recorded, there existed a land known as Akanea, founded by the great hero Anri. The three gods of Discord, Madness and War sent Medius, tyrant of the country of Durhua, to join forces with Garnev, the ruler and supreme priest of Khadin. The armies and strongholds of Akanea were no match against their combined might and despite a valiant resistance, the land was soon consumed by the black tides of darkness. However, Medius would soon learn to rue the day he conquered Akanea. For the spirit of Akanea could not be extinguished while the fires of freedom continued to burn in the hearts of the Akanean people. Not while a hero still breathed in whose veins the blood of Anri yet flowed. With the enchanted sword Falcion in his hands, Prince Mars would rally the people and begin a crusade to liberate Akanea....