Behold the horribleness!!!
Fire Mumblem is a Fire Emblem Blazing Sword hack made by yours truly, meant to parody the many, MANY horrible Fire Emblem hacks that swarm across the internet, haunting it's many victims with frustrating bosses holding elixir bottles, reinforcements that spawn awkwardly and unexpectedly, and horrible, HORRIBLE dialogue...
... Okay, you won't be seeing any of those in this mod, except the last one (but it's done on purpose).
Anyways, as I said before, Fire Mumblem is a hack that parodies terrible Fire Emblem hacks. Although it parodies them, it does not BECOME them.
The hack will feature:
Completely new and custom maps
Completely new and custom event data changes
Some new weapons (Some old weapons may get changed)
Some new portraits (And by some I mean very few)
A special "Bonus Task System" which rewards specific achievements with Gold
Completely new and custom text
A story that makes absolutely no sense, and doesn't just "re-skin" the story of the Fire Emblem game it changes, unlike SOME mods.
Fair and challenging difficulty that ISN'T overkill
Dark, morose humor, satirical humor, plently of blatent, warped, twisted and maybe even shocking and ridiculous scenes.
I am going to put MAXIMUM effort into not only making this mod good to play and hilarious to watch, but an effective parody to terrible Fire Emblem hacks everywhere.
Keep note, I've played MANY terrible Fire Emblem mods and I've even MADE one before, so I KNOW what NOT to do when attempting to make a good, enjoyable mod. Additionally, I have my friend, BuringPenitentEngine of YouTube to help not only give me feedback on the hack to help make it better, but to also provide hilarious let's Play videos on each chapter I make.
Screenshots!? HERE ARE YOUR SCREENSHOTS: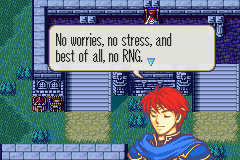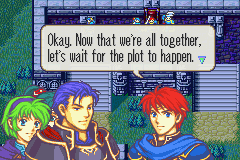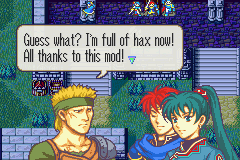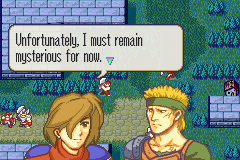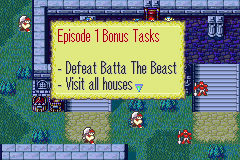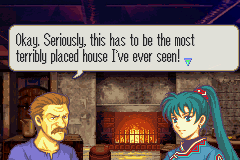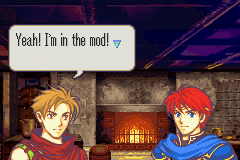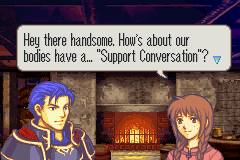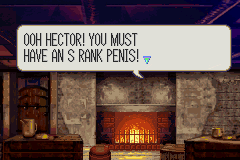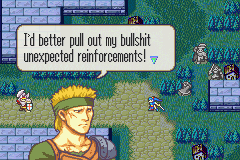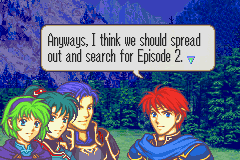 Oh, but I've got MORE than just screenshots, I have VIDEOS!!!:
~Video~Lets Play Fire Mumblem Episode 1 Revised Part 1 Super-Turbo HD Remix~Video~

~Video~Lets Play Fire Mumblem Episode 1 Revised Part 2 Visiting Houses, because I'm an Achievement Whore~Video~

~Video~Lets Play Fire Mumblem Episode 1 Revised Part 3 In Soviet Russia....~Video~
Allow me to explain something else about my mod, specifically the "Bonus Task System".
The Bonus task system is a new mechanic put into my mod. It basically works like this:
At the beginning of each Episode, before it actually starts, the game asks you if you wish to view the "Bonus Task List"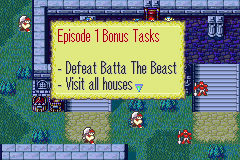 Viewing the Bonus task list shows you the optional tasks you can do in each Episode.
By completing said tasks....
You earn gold!
Please note that in my mod, you can only earn money in my mod by either selling your items and weapons, or by completing these tasks, and remember, if you don't HAVE money, your weapons will rust! And You can't fight without your weapons!
~Video~MONEY IS REALLY IMPORTANT, DAMNIT!~Video~
So far, the progress on my mod is...
Episode 1 - Completed entirely
Episode 2 - Completed entirely
Episode 3 - Completed entirely
Episode 3x - Completed entirely
Episode 4 - Completed entirely
There is also an older, now abandoned version of this mod that has Episodes 1 - 6 all completed and you can all watch all those episodes (With the exception of Episode 3) on BuringPenitentEngine's Youtube channel (by clicking
here
), however, that is an old version of this mod. This NEW version improves upon the old one greatly.
Questions? Comments? Compliments? Please give them. Although I am working hard on this mod all on my own (With BuringPenitentEngine being one of my only means of feedback), giving your comments helps motivate me to continue working on it. Additionally, suggestions and ideas may be put into the mod as well. I'm open for such.
And with that, this is MarkyJoe1990 signing out!