Though this is no longer in progress, some of the newer members may not have had the chance to try this out. Well, here you go.
Here is some info:
Release Log:
May 25, 2007: First patch released. v 0.1
July 14, 2007: Second patch released. v 0.15
Changes:
-Added more mugs
-Updated some mugs
-Fixed Zephiel spear bug
-Now needs 32 MB FE7 US ROM
July 20, 2007: Third patch released. v 0.16
-Added a few mugs
-Fixed yann -> Ryann
-Fixed the prologue maps before every chapter (Ace is no longer a lord on the map)
-Fixed "Final Boss's" mouth frame (I don't want to spoil who he is.)
-Changed the opening text a little bit (just rearranged a few words to fit on screen better)
-Reduced all chapter numbers by 10 (ex. Ch. 16 = Ch. 6)
-Fixed those three pixels sticking out in the "FlyingAce24 Presents" Screen (if any of you even noticed it)
October 7, 2007: Fourth patch released. v 0.2
-Fixed Gaiden chapter names (ex. Ch. x -> Ch. 6x)
-Fixed some characters' battle palettes
-Fixed and added some mugs
-Added text in the beginning to prevent people from playing Lyn mode
-Added Kenan (Janissary) as a boss
-Added weapon icons for various weapons
-Changed some weapon icons
-Changed background in the title screen
-Changed Exaccuus II into Gladius, Agnar into Swanchinka, and Einherjar into Partia
-Capitalized the second word in all items (ex. Iron sword -> Iron Sword)
January 20, 2008: Final Patch released. v 0.2.1
-fixed the gaiden chapters from glitching
(Release dates for the first three patches were from FESS and FEA)
I have included a save in the package. All you need to do is have the ROM with the same name and start. Choose Eliwood (Ace) Mode (Normal or Hard does not matter). DO NOT play Lyn (Jennifer) Mode.
There are two versions as well: a normal mode and a hard mode.
-Differences: Hard mode has harder enemies (stronger, not smarter unfortunately) as well as some item usage variations. Not much else is different.
Known Errors and Other Things:
-In Ch. 1, there is a weird text overlap thing when talking to the tactician.
-There just is no Lyn mode or Hector mode (haven't edited anything).
-Also, most of the bosses are default bosses.
-The storyline is similar to FE7's, with a few minor changes. Hopefully, with Zeld's patch, I can customize it more.
-In addition to limited story changes, some names will not appear properly (such as Kadaj -> Kada).
-There are a number of characters that do not have talking or blinking frames. I will attempt to fix these over
the summer.
-I didn't know how to use an expanded ROM, so some of the portraits are smaller than others and have some horrible shading to attempt to make them smaller. Again, I will attempt to fix them.
UPDATE: With an expanded ROM, this is possible.
-Most people don't have support conversations (or they are default). I probably won't be able to fix these unless
someone tells me how I can rearrange the pointers for the support convos.
UPDATE: I can do this now with Icy Toast's Modules.
Still to Come:
Portraits (only about 40% done)
Unique Bosses (if you want to be one, just tell me)
Maybe different (and more) text. I did all the text before Zeld's anti-Huffman patch was released, so I was limited to what
the parser could do.
Support conversations.
Credits:
Tools used:
-Nightmare
-HxD (Hex Editor)
-TileLayerPro
-unLZ-GBA
-VisualBoy Advance
-LunarIPS
-StealthPatch
SpyroDi(Pukachi) and Raydonn - making the FE7 Nightmare Modules that made this a WHOLE lot easier
NomadicTrooperGirl(Zero Device) - teaching me how to insert portraits and minis
Twilkitri - developing the parser that I used oh so much (even though he didn't want it released. I apologize
that that person stole it and released it.)
Zeld - developing the anti-Huffman patch I began to use to fix some of the parser woes (ex. yann -> Ryann)
Celice, Fire Blazer(Keriku), and Zeld - indirectly showing me some hex editing basics.
Icy Toast - helping me create the patch for version 0.15 (and on); giving info on adjusting the little prologue
map before every chapter.
Blackavar - making the beautiful mugs for Altenna, Aless, and Ishtar.
Lord Glenn - making the icons for Mistolten, Gae Bolg, Master Sword, Falchion, Amiti, Gurgurant, Ragnell, Rainbow,
Partia, and Gladius.
Nintendo - developing the great franchises known as Fire Emblem, Zelda, and Pokemon.
Square (Enix/Soft) - creating the great characters in their Final Fantasy series (Cloud, Sephiroth, etc.) and
Chrono series (Crono, Marle).
Here are some screens:
from v 0.1
from v 0.15
from v 0.16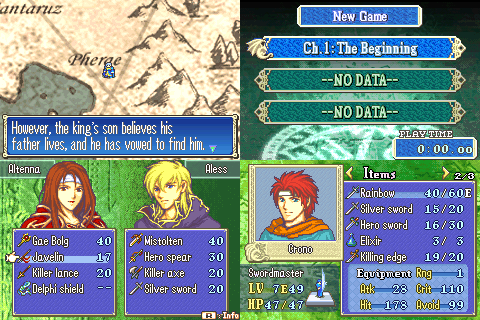 from v 0.2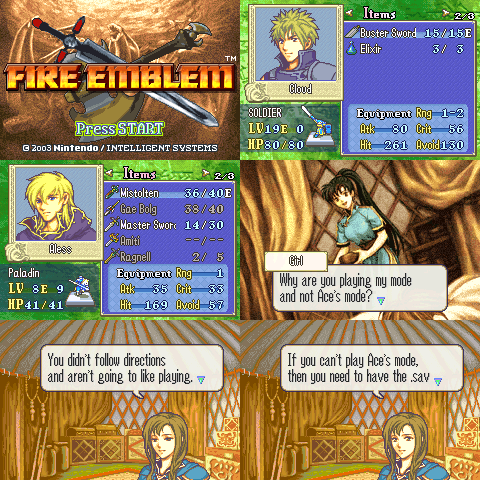 I hope you guys like it. Please try this out and give me some comments and critisism. I'd greatly appreciate it.
You
MUST
follow these patching instructions!!!!
Here are the instructions:
1) Download the file from the first post (obviously)
2) Extract the files.
3) Download StealthPatch. (You can google it or find it on romhacking.net)
4) Run spatch.exe. It should open as just a bar with File and Help.
5) Open File->Apply IPS Patch.
6) Select your FE7 US ROM.
7) Select Devourer of Time.ips.
8) Select where you want the ROM to be located and type in whatever you want the output ROM to be named (preferably Fire Emblem - Devourer of Time.gba). Then hit Save.
9) It will ask if you want to apply an extra data set. Hit Yes.
10) Now select Devourer of Time2.ips.
11) It should say that it was patched successfully. Now for the most important step...
12) Enjoy!
Download links:
Normal Mode
Hard Mode