...Can I put this here, or...?
THIS IS FOR THE XBOX 360 VERSION.
Something i've gotten interested in recently, don't know if anyone here'll care but i'm putting findings here, just note that about half of these things weren't found by me, but I just wanted to compile them so it's nice and neat, although most the items were done be me.
...
You know, i've also had a lot of fun having Flynn on my team, even though he only has 6 artes. As far as I know, you can't use Flynn's boss artes for the playable Flynn, darn, i'd love to use Dragon Swarm, haha, also, all 7 Fell Arms of playable characters don't work for him (As in, they're invisble and don't increase in power with more kills), but i've a feeling that he may have a beta version of his own (Which, if such a thing does exist, I still need to try and find (As he does in the PS3 version)), another note, he's the only playable character with the skill "Hero", also pretty much every skill that works for Yuri, Estelle and Raven work for Flynn (Possibly every character, but i've only tested with those three), so you can give him Glory and Lucky End if you wanted to.
Screenshot of Flynn and Yuri after tearing through the arena (Overlimit + Sonic Thrust spam is sooooo freaking cheap.) I apologize for the abysmal quality, it's the best I could do currently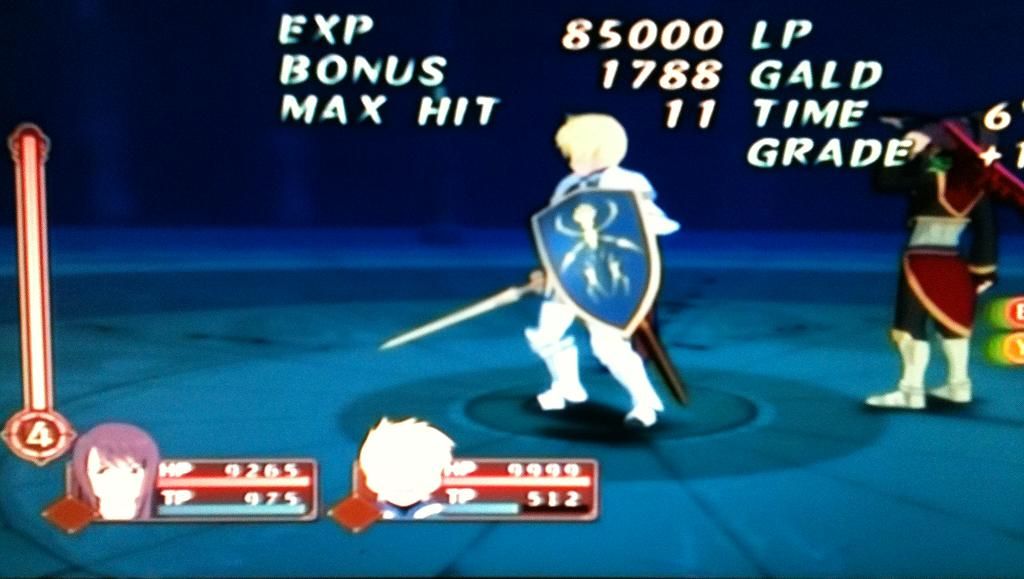 Note~ Microsoft shouldn't care about hacking the game as long as you don't abuse it online, for those worried about that~
Anywho, codes and hex editings and all.
Character ID:
00 - None
01 - Yuri
02 - Estelle
03 - Karol
04 - Rita
05 - Raven
06 - Judith
07 - Repede
08 - Flynn
09 - Patty (Dummied)
Character Party Slot Offsets:
112AF - On-screen Avatar
112B3 - Slot 1
112B7 - Slot 2
112BB - Slot 3
112BF - Slot 4
112C3 - Slot 5
112C7 - Slot 6
112CB - Slot 7
112CF - Slot 8
112D3 - Slot 9
-------------------------------------------------------------
=============================================================
-------------------------------------------------------------
Character Nicknames:
Yuri: 15C8C-15C93
Estelle: 19BCC-19BD3
Karol: 1DB0C-1DB13
Rita: 21A4C-21A53
Raven: 2598C-25993
Judith: 298CC-298D3
Repede: 2D80C-2D813
Flynn: 3174C-31753
"Patty" (Basically useless): 3568C-35693
-------------------------------------------------------------
=============================================================
-------------------------------------------------------------
Yuri:
18162-18163 Main Weapon
18166-18167 Sub Weapon
1816A-1816B Body
1816E-1816F Head
18172-18173 Accessory
18176-18177 Attachment
Estelle:
1C0A2-1C0A3 Main Weapon
1C0A6-1C0A7 Sub Weapon
1C0AA-1C0AB Body
1C0AE-1C0AF Head
1C0B2-1C0B3 Accessory
1C0B6-1C0B7 Attachment
Karol:
1FFE2-1FFE3 Main Weapon
Sub Weapon
Body
Head
Accessory
Attachment
Rita:
23F22-23F23 Main Weapon
Sub Weapon
Body
Head
Accessory
Attachment
Raven:
27E62-27E63 Main Weapon
Sub Weapon
Body
Head
Accessory
Attachment
Judith:
2BDA2-2BDA3 Main Weapon
Sub Weapon
Body
Head
Accessory
Attachment
Repede:
2FCE2-2FCE3 Main Weapon
Sub Weapon
Body
Head
Accessory
Attachment
Flynn:
Equipment~
33C22-33C23 Main Weapon
33C26-33C27 Sub Weapon
33C2A-33C2B Body
33C2E-33C2F Head
33C32-33C33 Accessory
33C36-33C37 Attachment
-----------------------
Stats~
317B6-317B7 Physical Attack Stat
317BA-317BB Physical Defence Stat
317BE-317BF Magic Attack Stat
317C2-317C3 Magic Defense Stat
-----------------------
Arte Usage~
32D5E-32D5F Demon Fang
32D62-32D63 Tiger Blade
32D66-32D67 Beast
32D6A-32D6B Sonic Thrust
32D6E-32D6F Sword Rain: Alpha
32D72-32D73 First Aid
-------------------------------------------------------------
=============================================================
-------------------------------------------------------------
---------------
| Attachments |
---------------
06 6F = Overdrive Lady
----------------
| Accessoeries |
----------------
01 D9 = Faerie Ring
----------
| Armors |
----------
01 4C = Hyper Armor
-----------
| Helmets |
-----------
01 A3 = Dragon Helm
-----------
| Shields |
-----------
01 08 = Kite Shield (Visible on Flynn)
06 70 = White Knight Shield (Visible on Flynn (Duh, it's his default shield))
-------------
| Gauntlets |
-------------
01 13 = Black Leather
01 14 = Knuckle Duster
01 15 = Defender
01 16 = Tyrant Fist
01 17 = Garm Fang
----------------
| Short Blades |
----------------
05 C1 = Vagabond +1
00 EC = Kurama
--------------
| Heavy Bows |
--------------
00 E0 = Crusader 13
--------------
| Light Bows |
--------------
00 CA = Snipe Xiphos
05 89 = Strike Eagle +1a
-----------
| Scrolls |
-----------
05 5F = Milky Way +1
---------
| Whips |
---------
05 69 = Nova +1a
05 75 = Sword Whip +1a
---------
| Wands |
---------
00 A9 = Energy Wand
-----------
| Hammers |
-----------
00 94 = Golden Hammer
----------
| Spears |
----------
00 88 = Zarich
00 87 = Brionac
00 86 = Gae Bolg
00 85 = Longinus
00 84 = Dunamis
00 83 = Shiva
00 82 = Ahriman
00 81 = Gungnir
00 80 = Green Dragon Cresent Blade
00 7F = Hades
00 7E = Beast Slayer
00 7D = Hotengeki
00 7C = Death Scythe
00 7B = Naginata
00 7A = War Harpoon
00 79 = Executioner
00 78 = Trident
00 77 = Halberd
00 76 = War Pike
--------
| Axes |
--------
06 AD = Tabar +1
04 D4 = Bahamut's Tear +1
00 75 = Glasya Labolas ( Before Duke Upgrade )
00 74 = Infinity
00 73 = Silver Edge
00 72 = Minotauros
00 71 = Gaia Cleaver
00 70 = Bahamut's Tear
00 6F = Bone Slasher
00 6E = Bardiche
00 6D = Tabar
00 6C = Masakari Cleaver
00 6B = Celtis
00 6A = Kalinga
00 69 = Zaghnal
00 68 = Crimson Axe
00 67 = Crescent Axe
00 66 = Ogre Axe
00 65 = Francisca
00 64 = War Axe
00 63 = Great Axe
00 62 = Hand Axe
---------------
| Swords |
---------------
06 71 = Compact Sword +1
04 B9 = Rune Blade +1 (Visible on Flynn)
04 B2 = Sentinel +1
04 AD = Tsurugi +1
04 45 = Blazor Edge Abyssion
03 60 = Bastard Sword +1B
00 61 = Second Star
00 60 = White Knight Sword (Visible on Flynn (Duh, it's his default weapon))
00 5F = Gauche Sword
00 5E = Droite Sword
00 5D = False Dein Nomos
00 5C = Bravior
00 5B = ( Blank not a item? )
00 5A = Shinai
00 59 = Abyssion ( Before Duke Upgrade )
00 58 = Mercurius ( Before Duke Upgrade )
00 57 = Meteorite Blade
00 56 = Colossus
00 55 = Last Fencer
00 54 = Vorpal Sword
00 53 = Flamberge
00 52 = Claiomh Solais
00 51 = Dark Avenger
00 50 = Riot
00 4F = Holy Avenger
00 4E = Caladbolg
00 4D = Kris Naga
00 4C = Shiden
00 4B = Spine Ripper
00 4A = Highlander
00 49 = Iron Maiden
00 48 = Shadow Fang
00 47 = Real Knight Sword (Visible on Flynn)
00 46 = Aries
00 45 = Zephyrus
00 44 = Basilard
00 43 = Rune Blade (Visible on Flynn)
00 42 = Sinclair Saber
00 41 = High Tsurugi
00 40 = Damascus Sword
00 3F = Mythril Sword
00 3E = Ogre Sword
00 3D = Bastard Sword
00 3C = Sentinel
00 3B = Stinger
00 3A = Ice Coffin
00 39 = Estoc
00 38 = Battle Sword
00 37 = Blue Dragon
00 36 = Epee
00 35 = Gladius
00 34 = Tsurugi
00 33 = Rapier (Visible on Flynn)
00 32 = Stiletto
00 31 = Knight Sword (Visible on Flynn)
00 30 = Long Sword (Visible on Flynn)
00 2F = Saber
00 2E = Scimitar
00 2D = Karolian Sword
00 2C = Karolian Hammer
00 2B = Compact Sword