Hey everyone. So I just finished playing my imported copy of Fire Emblem Fates since I'm a chump and didn't want to wait, especially when I already had a Japanese 3DS from Smash. I played on the Conquest/Black Kingdom/Nohr/whatever path you want to call it. The one said to be darker, harder, and more aimed at older Fire Emblem fans in terms of design and such.

I've separated the review into two parts: the good and the bad, followed by an arbitrary number known as a "review score", as well as some recommendation info. If you don't want to hear "praise" or "hate" for the game, then please only read the section you like, because my job is to try to objectively analyze and reflect on the game and I won't blindly praise or bitterly hate just because I happen to be a rather old and invested fan of the series.

Still, it's a review, so this inevitably contains my impressions and opinions and will have to have small spoilers, but I will not reveal any specific details on the gameplay gimmicks or story; for example, I might say "the ending answered/didn't answer all my questions", which would spoil what kind of ending it is, but I wouldn't say what those questions are. So, while I consider this a nearly spoiler-free review, please read at your own risk.

And without further adieu, please enjoy my extensive review of the Japanese version of Fire Emblem Fates: Conquest.

---------------------------------------------------------

 
If you're reading this review, you probably have a good idea what the game is about: two opposing countries, Hoshido and Nohr; an avatar who is also the main character is Hoshido by blood, but was taken in and raised by Nohr. You must choose which side to fight on, with Hoshido said to be the lighter more "Awakening-styled" game and Nohr said to be the darker more "classic-styled" game. How does the Nohr route hold up? Let's see.

The Good:

Gameplay

The gameplay starts off simple, teaching you what you need to know early on, which is good. There is a diverse amount of classes and units to choose from. The pair-up system has been greatly improved from Awakening, forcing you to weigh the benefits of pairing up units vs. keeping them separated much more, whereas in Awakening, pairing up was almost always the better option. Furthermore, the elements of luck involved in dual attacking and dual guard have been greatly reduced, and it's now significantly more predictable. Lastly, the bonuses from pairing up also seem to have been significantly reduced, which helps keep the game balanced.

Dual Guard Elaboration: pairing up enables dual guard, which has a meter that increases as you attack and get attacked. Once it fills up, your ally will completely defend any one attack. However, pairing up also lets the support unit defend the lead unit against dual attacks from enemies—that's right, enemies can use dual attack and dual guard too, which is a nice added element that makes the playing field seem more even! However, while pairing up protects the support unit from all damage and protects the lead unit from some attacks (while giving small bonuses), dual attack has its own benefits.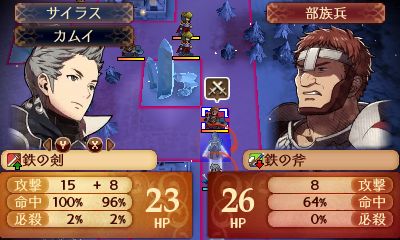 Dual Attack Elaboration: When not paired up, your units act separately, allowing you to effectively make more movements, because you're not using 2 characters' turns in one. In order to dual attack, two units must be adjacent to each other and not paired up, and the unit that dual attacks has a chance at dealing half their normal damage, which can be an excellent way to finish off enemies with low HP, get glass cannons to safely attack, or just deal lots of damage in general. Furthermore, you can choose which unit of the adjacent units will dual attack, and with many units around each other (giving support bonuses as well), the dual attack mechanic allows for lots of damage to be done quickly, provided you aren't attacking an enemy using dual guard.

As you can tell, the gameplay is certainly enhanced by these new facets, which force the player to consider how they want to place their units in order to maximize defense or offense. In general, it is very nice to have a new mechanic that feels much more polished than Awakening's pair up mechanic that makes us think in ways previous Fire Emblem games didn't.

Map Design: Map design fluctuates greatly. Some maps are very well-made, allowing multiple paths for movement, giving you alternate objectives besides defeating the enemy, and clearly having enemies or terrain placed in strategic.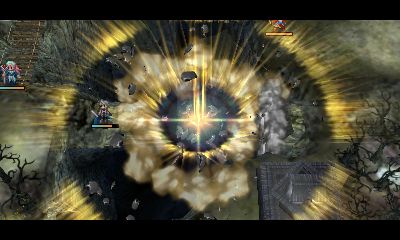 Special Ability: Dragon Vein: This ability adds to the flavor of the game by allowing members of royalty to activate various gimmicks throughout the game. Like the map design, sometimes these work nicely.

Weapon Changes: Though it was a bit of a controversial change, I find not having to constantly worry about replenishing weapon uses very useful. It often came off as very tedious before, and there were many downsides to it, such as having weapons at low uses take up slots but not wanting to sell them, worrying about using weapons with uses so much you didn't use them, or running out of funds to have weapons, creating an artificial sense of difficulty. The game removes this while balancing the money and weapons advantages such that there are times when weaker weapons are strategically preferable over stronger weapons such as Silver Swords. Furthermore, you can have a good variety of weapons in your inventory without worrying too much about the limited slot space. Overall, I find this to be an overwhelmingly positive change. Strategies dependent on weapon uses or the gameplay element of managing it are not something I missed given how rare the former is and how many times I've done the latter; I really didn't even realize how tedious managing weapons could be until I didn't have to do it anymore, and I don't feel like I missed out on anything of importance.

Other Gameplay Elements: The class and weapon variety are good, especially due to the new Hoshidan classes and weapon types that really change things up from previous Fire Emblem games/the Nohr classes, while still keeping it in-line and predictable enough that it's not overwhelming. My Castle lets you shop after every chapter, which is more convenient than not knowing when your next chance at a shop might be, not knowing what will be available in the next shop, etc., and you can also net free weapons and such from characters on the map in My Castle. You can also buy temporary stat boosters to help you, which is nice for weaker characters.

Overall: The gameplay can be very fun and challenging at times, as well as rewarding. There are moments where I really felt like "this is a fun strategy game" or "this is a fun Fire Emblem game".
Note that I played on Normal difficulty, Classic mode, and made minimal usage of My Castle, and did not obtain any Paralogues except one, meaning I did not make use of children characters or any EXP/items that came from that. I also had some difficulty deciphering some of the skills. As a result, my experience may be quite different from others. However, I did not see any significant changes to grind for money or experience in the Nohr route, which was nice as it limits the skewing of balance.

Graphics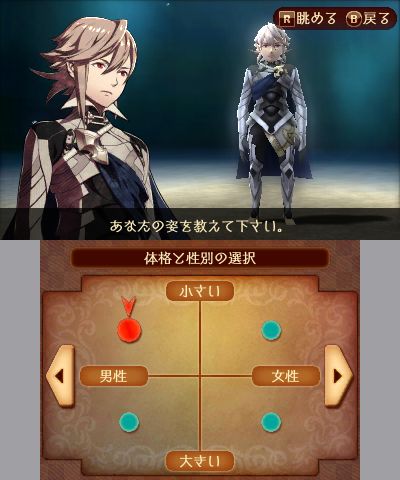 The graphics are generally excellent. Yes, characters have feet! But the overworld sprites are also cool and the game is in 3D. It has a certain thematic feel to it and it uses effects nicely. The animations are fluid and interesting, improving on Awakening. The pre-rendered cinematics are visually excellent, as you can see at the begining, even though they're limited by the hardware. There's also a decent amount of customization to the avatar's basic appearance, though not so much their attire (except through accessories, which I didn't get to try myself).

The character portraits are excellent and most of the designs look well-done and fitting. There's a good amount of variety and it's not easy making unique designs for so many characters.

Story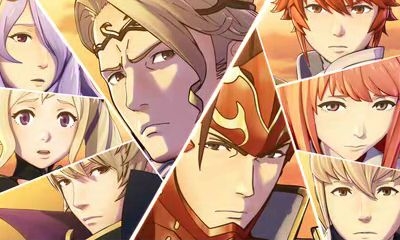 The story starts off with a great premise. Even though I had decided on the Nohr route at the beginning, given the choice (I purchased the digital version), I legitimately struggled in deciding which route to pick, and almost left it up the flip of a coin. Each side has likeable characters and its own atmosphere and reasons why you might support it, and "betraying" one or the other certainly isn't easy.

The story has some cutscenes to support it which is nice, and there are some nice plot twists as well. All of the main characters get a fair amount of dialog, not just Corrine and Azura, and there is a lot of dialog to flesh scenes out; in a way, it leaves little to the imagination, which could certainly be considered a positive.

Characters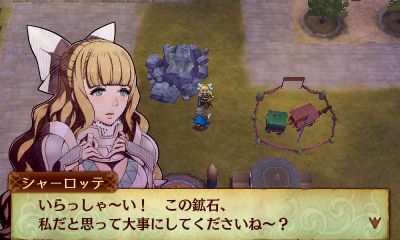 Most of the characters have certain ways of talking and personality quirks to come into their own. This may help make them more likeable or easily attached to. The designs are generally good and fitting as well, and the small voice clips help bring the characters to life. Each character gets plenty of dialog whether it's in-battle, after leveling, on My Castle, or actually in-game, which is nice because it lets characters get a little bit more screen time and thus are easier to become attached to.

Music

The music is good across the board, with a somewhat enchanting Eastern theme to it, using a lot of woodwinds and orchestrated instruments. The singing in the game is excellent and is a stand-out; the main theme in general, in fact, is great, and the various renditions of it are certainly used well. I personally think it is one of the series' best and most memorable songs, right alongside the series main theme and various renditions of Together We Ride. There are also some serious stand-out songs that even for a video game music fanatic like me, were very impressive and enjoyable songs, so I would certainly consider the game's music a success as a whole.

As an aside, the sound effects and use (or lack of use) of music were generally well-done. It felt very fitting and natural as a whole.

Atmosphere & Immersion

The atmosphere of the Nohr side is darker and grimmer and with colors and character designs to fit it. The music also adds to the atmosphere, often creating a sense of foreboding or urgency when needed. When you do visit Hoshido, the different atmosphere is quite apparent; it's brighter, sakura petals may be blowing around, and it's somehow slightly less tense and foreboding. In a way, even the different types of classes help bring a sense of atmosphere to the two different countries, and this is certainly a positive.


The Bad:

Gameplay

The main strategy gameplay as a whole isn't bad, but it suffers from a lot of gimmicks and fluctuations.

Balance: To start, the game is just highly inconsistent in its balance. Some characters have extremely low HP and defense stats/growths, making them so weak they can't even stand up to single attacks from weak enemies, or they can't attack directly because they're glass cannons. Furthermore, using lower-leveled characters or using characters that are just plain not very good will make things very difficult. The enemies stats tend to be rather high, especially later on. At one point the enemies' stats and levels increased and they were just as strong if not stronger than me. End-game enemies felt like bosses in other games, and it was extremely difficult to win fights without resorting to my strong units doing most of the fighting, which would only put the weaker units behind even more.

This might be ok on lunatic or even hard, but I was playing on Normal mode and quite frankly, I felt like if I didn't resort to strategies like turtling or using only my good units, I would be screwed over. I get that they were trying to make it challenging, but the challenge was inconsistent: sometimes it was due to gimmicks, other times it was due to a combination of map design, unit design, and unit placement (good), and other times the enemies were just too strong in quality and quantity and there was little I could do strategically to take it, because simply put, the numbers were against me.

Note that my characters may have been slightly underleveled or lacking in bonds due to not playing any paralogues and not using certain features of My Castle. However, if doing those would have helped me that much, I find that a problem, because I have my own reasons for avoiding those "optional" extras and it would be a bit disappointing if the normal balance for the chapters assumes you are making full use of those, rather than assuming you're not. (And in case you didn't see it earlier: Yes, I was playing on classic mode.)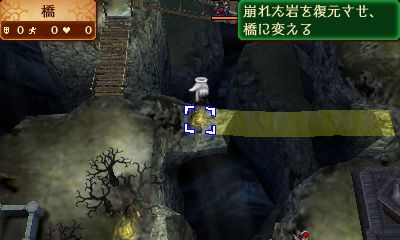 Special Ability: Dragon Vein: It may seem odd to list this special ability that makes changes to the maps as both a good and a bad, but the gimmicks vary so much it could hardly be helped. I don't want to be specific, but sometimes the gimmicks were very tactical and could be easily timed in favor of the player. Sometimes they were just a "one-time" thing. Other times, however, the gimmicks felt forced and intrusive. For instance, one chapter's dragon vein gimmick involves opening some paths on the map while blocking others and it was so annoying I just didn't want to deal with it, because it was a nice idea that was poorly executed and was far too difficult to effectively use in the way it seemed the developers wanted us to use it (splitting up units and taking them on alone). The fact that most dragon veins spots can only be used once and a limited # of characters can activate them (at the cost of not being able to attack; I should mention that the royalty are some of the best units in the game, so it's risky wasting one of their turns to use dragon vein) didn't help.

Another map had a gimmick that essentially whizzed units away in a somewhat unpredictable fashion. You would have a general idea of where they were going, but nothing specific; it could split up units, move enemies in to you, or otherwise. The thing is, you could force this gimmick to activate on your turn, but it was a risky move, and if you didn't, it would happen anyway. Ultimately, the gimmick proved to add little strategical value to the map and was far from enjoyable, and I found myself playing defensively against the gimmick wishing it wasn't there. There were a few other such chapters.

Character Recruiting: Character recruiting was generally not very interesting. Perhaps this is because I didn't recruit children, but there were practically no characters to be recruited late-game, which also presented a problem in that I couldn't replace missing characters. I suddenly had more spots for characters to be on my team, but without delving into sidequest/paralogues to recruit children, I had no one to fill those spots. What characters you do recruit are pretty straight-forward; the conditions for recruiting characters were very limited (they usually just automatically join your team) and recruitable characters weren't used as a gameplay element, e.g. recruiting a character admist enemies, rushing to save an NPC or a village with an NPC, etc., and I missed this from previous games as it added a small sense of excitement and depth to the game.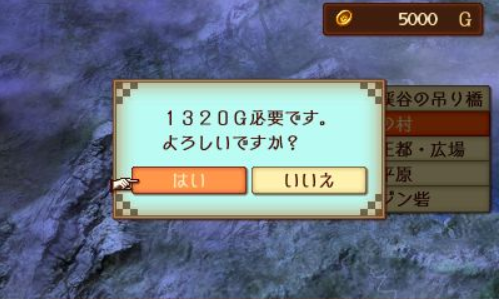 Few Meaningful Choices: This ties in with the story too, but gameplay-wise, choices didn't really seem to matter. I won't spoil the choices, but I was disappointed considering the game was supposed to be big on choices made throughout the game, and the only real choice felt like which game to buy/which route to play first.

Extras: Of course, Fire Emblem is now much more than just how the main chapters play. The IMO bad extra features were the changed forge system and the fluff of My Castle. Simply put, My Castle feels like your home base and in some ways an expanded barracks, but there is little point to this expansion as it adds little to the game. You need to farm to do stuff, and you need to get minerals and such for forging, which is annoying because they are a bit limited and your best chance at getting more is the arena, which picks seemingly random characters to fight for you... It just feels kind of pointless and meager and not-the-point when it doesn't need to be; it wasn't a great world or enjoyable to make my own "My Castle", it was simply something I needed to invest time in if I wanted weapons and items for the main game.

There's also the option to engage in conversations with characters, which were just... ok. They were pretty much all shallow, predictable one-liners that added to the fluff, but not much else. More on that later, but also there's the option to interact with characters in your room, eat meals, and dress them up, which also seemed rather pointless... except for the fact that these all have various effects on the gameplay, meaning it's actually a little bit important you spend time on these extra My Castle features unless you want to have a difficult time later or don't mind only experiencing a fraction of the game. But this is a review of the whole game, and I can say without a doubt that these features did little to add anything of value to the game.

The Final Chapter: I won't spoil what happens, but a certain part of the final chapter was my least favorite final chapter in the entire series, and I didn't like a lot of final chapters. At first it was good, but then... well, you should play and judge it for yourself, but it was such a poor way to end what was otherwise...

Overall: An enjoyable and challenging game, with some bumps and flaws that stopped it from being nearly as good as it could have been. With some more polish and some less gimmicky features, the main gameplay of the game could have been one of the best in the series. It often felt multiple steps up from Awakening due to the variety of chapter goals, more focused ideas, and increased balanced, but it also felt like it completely failed in some areas.

Graphics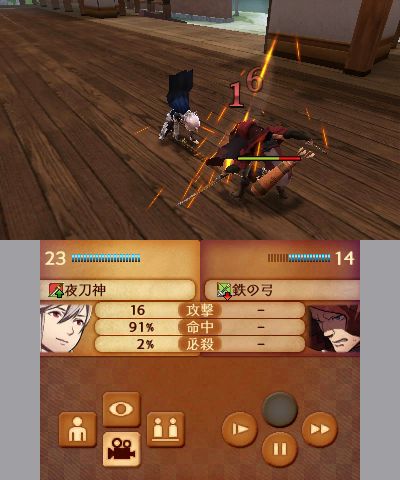 So much brown. And I think this is Hoshido, but Nohr ain't much different.
The game uses a lot of the color brown, so much so that it became a bit overwhelming. It is trying to get across a theme here, but it almost tries too hard and I got sick of seeing brown all over the UI and the game. Maybe it's just me though.

The animation models were not that quality up-close; Corrine's face looked a bit deformed and ugly and in general, bodies sometimes looked slightly off or deformed. At least somewhat, it's a result of the style and hardware limitations, but it just didn't always pan out, especially out of battle (in-battle it usually looked fine).

Story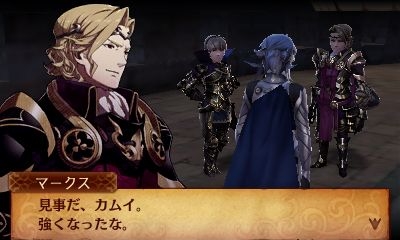 (This is probably the category most likely to contain sensitive information as it's difficult to talk about the story without sharing my impressions and thus a little bit of how it went, so again, read at your own risk.)

Now, I can't reflect on the Hoshido route ("Birthright") story as I haven't played it myself, but Nohr isn't really quite how it was made out to be. It is very much a straight-forward story that feels very episodic and chopped up. Sub-plots and individual character stories are sparse and enemies are poorly developed, with a couple of exceptions. In general, the story is very predictable as a whole and fails to impress or make much progress. When there are "plot twists", they are written and executed so poorly and predictably that it reminded me of watching a cheap anime and actually caused me a little bit of frustration.

There's no real sense of the "countries" outside of the royal families and their confidants; there's little politics, there's little in the way of "other forces" involved... like I said earlier, it's just very straight-forward and uncomplicated. For a game that was supposed to be about fixing Nohr from the inside, it felt more like I was just a part of the inside, but not really fixing anything. When there was someone else in the inside messing things up, I wasn't really given a choice to do anything, and had the important decisions—or at least, decisions I'd like to have made given that the game was trying so hard at points to make me actually feel like Corrine—made for me.

Speaking of Corrine (AKA Kamui; I do apologize if I mess up and use that name—also, I played as Male Corrine, and for convenience, I will be referencing the avatar as he), he's probably the weakest part of the story. I found him to be a very idealistic and generic hero-type character that fails to do anything out of the ordinary. When he is about to, I found myself rooting for him greatly, thinking he would finally have some character development, only to be disappointed. Now, this goes very much into his character as well, the next section, but it can't be helped in that when the story revolves around such a disappointing main character that puts the idealistic Shiroe from Fate/Stay Night's main route to shame, the story as a whole is also largely uninteresting, unimpressive, shallow, and disappointing.

Another problem with the story is that it doesn't feel like it means much. I had little sense of how much the war affected people, how much the lives of the soldiers and families meant, how big the kingdoms were... the characters are mostly people that follow one kingdom or the other, with a few rare exceptions, so they felt somewhat detached from the problems, especially due to how characters are written. This ties into the atmosphere and characters as well, but with people going to My Castle and chilling, having silly support conversations, and being touched and played with by their commanding officer in his treehouse or whatever, I had a little bit of a hard time taking the plot seriously—and I did my best to avoid such elements. The characters didn't really seem affected all that much by the war or the events going on, they were just sort of people in the army related to the royalty who happened to be involve, each with their own personality; meaning the characters didn't add much depth to the story as a whole, with only one notable exception to this popping up in my head (but I won't spoil it).

In general though, it doesn't feel like there's much at stake. Even if I had seen a village burning down in a cutscene, if I didn't get to know that village, it wouldn't mean much to me; and it's not that I'm heartless, but it's a fictional story and it's difficult to feel sympathy for something you don't know. Likewise, I didn't get to see flashbacks of the main family interacting when they were younger, so I didn't feel any real bond outside of the dialog forced by events that happen in-game, or support conversations, which generally weren't that deep and didn't add much anyhow (but even so, they're not apart of the main story, so they only contribute so much). I didn't feel like anyone's life was really at stake because nothing particularly bad happened in the game and it was told in such a way that it felt like no matter what happened, the heroes would get out alive, perhaps even more-so because it would ruin things like the support conversations and My Castle interactions if someone important actually turned traitor or died. When someone actually did die (it's an RPG for 15+ years old, not much of a spoiler that someone died) I didn't actually get to know them well enough to care much or feel like much had been lost: the only thing going for them was the time I had spent playing the game, and it lacked enough immersion for that to be much of a factor.

At one point in the story, an important character dies and it's upsetting because the main character pretty much did nothing to prevent or stop this but "regretted" it anyway. Throughout the story, they're like this: only taking just enough risk to stir something up, but without long-lasting consequences. When presented with a tough situation, someone else has to bail Corrine out, and it feels contrived and legitimately upsetting, as well as a bit unbelievable. In general, the character interactions and relations are so shallow and poorly developed that it's hard to imagine they'd actually act and feel the way they do in the story as a whole (e.g. people forgiving each other or acting like they're close family when there's little rational reasoning for them to feel that way). So yeah, the characters... let's get into that.

But first, I want to share my opinion on the ending: it was pretty awful and poorly executed and I felt almost nothing at it except a bit of questioning as to how this happened or why the characters acted the way they did. Granted, you might feel differently than I did, especially depending on which route you play first, so take it with a grain of salt (like pretty much everything here) and keep an open mind—don't let me totally ruin it for you. One person's trash is another person's treasure... or something like that.

OK, time to talk about the characters.

Characters

There's so much I could say about the characters, so let me handle this a bit differently and list points so it's a little easier to handle.

- Shallow interactions throughout the game. Same beef as Awakening: these can be considered cool or just fluff lacking in actual substance. Characters are dominated by personality gimmicks and feel 1-dimensional. I don't actually feel any motivation to learn about the characters; in a way, having them be silent in older Fire Emblem games piqued my curiosity, and while the added screen-time is nice sometimes, at other times it gets a bit much and feels pointless.
 
Leon looks a bit dignified (as royalty should), smart, and strong... how is he actually?
- Characters usually act exactly how they look or as their position demands them to, unless it contradicts with their gimmick or trope. It makes things somewhat bland and predictable: the fun part about characters is peeling away that outer layer of how they look and finding out how they really think and seeing their real personality, not just how they usually act in front of people or how they handle simple situations. Seeing how they react in crazy situations, and doing things that are out of character, actually builds character, because real people are, at least from my biased experiences, more complicated than what they seem at first. Sure, what you do for a living and such does influence personality, but that doesn't mean it has to meet those stereotypes as much as it sometimes does in Fates. In other words, I wish characters would break free of this and show more varied reactions, moods, and traits. Instead of Elise always being the supportive "cute" little sister, maybe make her have a fight with Corrine and instead of having Corrine be his usual understanding self, have him be petty and fight back at first.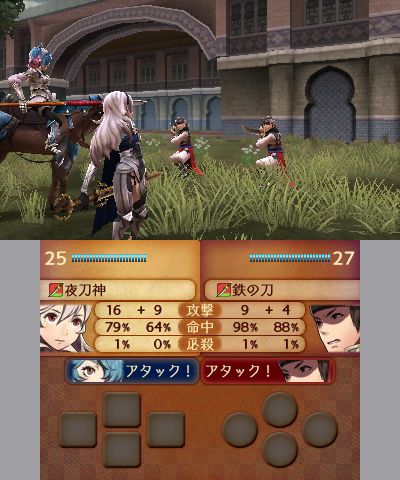 All is more or less well as long as you're fighting on the same side.
- This leads into my next point, which is that the game feels like it's afraid to let people on the same side conflict or clash. Pretty much everyone seems like a "nice person". Everyone gets along. Everyone has to get along. Any two people can be paired up with each other and grow bonds. If two characters support but there isn't much natural substance to that support, a shoddy support is forced in instead, just so there is one. People aren't allowed to just be silent or do their own thing. Everyone is under the wing of Corrine and his "army" and even if someone tells Corrine he's right or wrong or needs to consider this or that, it just goes so well it kind of bothers me: my gosh, someone yell at each other, someone get emotional, someone do more than just act mature and say the right thing and do the expected thing. Someone break free!

- Characters can't say no. They can't say no to you talking to them. To you marrying them. To you inviting them to your room. To your actions in the army, or with the army. Honestly, this is a bit of a spoiler, but Corrine doesn't really do much over the course of the game that really gives people any good reason to follow and respect him: ok, he's somewhat of a leader and he's royalty, he has a couple "good" moments maybe, but he fails to impress or do anything that anyone else can't do, and Xander/Marx is way better of a leader in my opinion. Kamui is forcibly made the connecting thread between characters but it's such a weak starting point and yet everyone is tied to it anyway, which is just a recipe for failure in my opinion.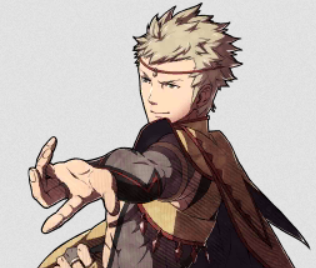 Wait, why is Owain back? OK, maybe not literally, but close enough...
- The inclusion of Awakening-like characters. Just seems like straight-up unnecessary fan service that contributes nothing of value to the game. And that's all I can really say on this.

- There are few interesting backstories, motivations for joining Corrine, etc.: again, most characters are just subservient to a country. There are few different allegiances or personal motives behind joining. Let's compare this with Fire Emblem 7 so we can think a bit more specifically: you had characters from several different countries, friends of one character who didn't know other characters at all, personal retainers and soldiers, spies, civilians, a warrior from a distant desert, a guy who wants to kill the main character, a former and current general, researchers... all these people from so many different origins joined a single army somewhat for a common cause but also for different causes, and in a way it was amazing they could function as well as they did!

The best part was probably seeing how these characters would unexpectedly have connections to each other in their upbringing or their pasts, and often you wouldn't even know if you didn't read the supports: take Wil, Rebecca, and Dart, or Lucius and Renault. Now, that's not to say Fates doesn't have its character relations or well-written supports, but it's certainly lacking the depth that some of the previous Fire Emblem games had, and in general with how characters were recruited, I wasn't really interested in learning about them anyway, because I mean, what do you need to know about X's retainer/personal servant, it's obvious why they're joining you, it's because it's their job: it's less enigmatic and thus less curiosity-piquing than that one guy who happened to be in that village or that person in the enemy army who defected for some reason or that lone traveler that decided to join up with you and your cause even though you're strangers.

Overall: Characters are shallow, bland, predictable, and just lacking in general. There is some potential and they certainly have more "surface depth" than previous games, but it seems that was sacrificed for meaningful depth. Like how a (mostly) silent main character such as Link from The Legend of Zelda is, in a way, easier to get attached to than one that yaps off constantly, most of the characters only seem to have surface charm and not underlying charm, and because of that I can't say they're well-written or an asset to the game, even if they're not exactly bad.

To be fair, the cast has always been a huge part of Fire Emblem—few games have this many "playable" characters and they could have gone with generic units like in Advance Wars, so that's why I have so much to say about it. One could even argue the characters are more important to a Fire Emblem game than the story as a whole! (...Though I won't argue that myself, I'm just saying.)

Music

The music for the Nohr side may have very well been the same music for the Hoshido side... in which case, I'm disappointed. The Nohr music has a very Eastern feeling to it which contradicts the general nature of Nohr. Sure, not all fights take place in Nohr, but it still felt a little odd that the music didn't really match the essence or atmosphere presented by the characters you were controlling and the country you sided with.

Also, a lot of songs weren't very memorable and the melodies felt a bit chaotic, as if the instruments were trying to fight over each other for dominance of the melody. Because of that, I didn't get into a lot of the map music and such.

There were also a couple of songs that sounded like they had elements that came straight out of Awakening: I could repeat the drum beat in my head and matched it with Awakening's almost immediately, though sadly I couldn't tell you the exact song. The boss themes also felt a little similar: not very similar, but enough that one might feel the composer struggled to create a whole new set of quality melodies, or else they thought it would be good fan service. It reminds me of how the Tales of games and its longstanding composer Motoi Sakuraba's songs all sound very similar, especially when they're created for the same purpose.

The soundtrack is good as a whole, don't get me wrong, but aside from a few impressive songs, it was mostly just "solid background music": nothing I would brag about or worthy of considerable praise.

Atmosphere & Immersion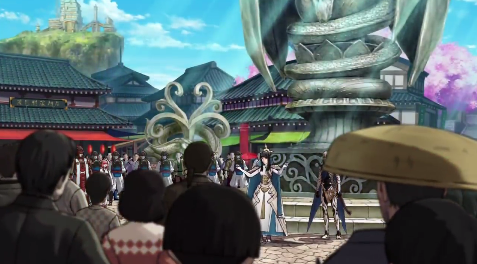 Look at that scenery. Looks inspired, doesn't it?
The atmosphere in a game (not just Fire Emblem) is actually important enough to me that I am including it in this review. Generally, the atmosphere is fine: you have a war going on, Nohr is darker, Hoshido is lighter, one feels more Eastern and the other more European... however, there are some elements that break this atmosphere.

For one, as previously mentioned, the character interactions detract from it. It's fine to some extent, but I just find it difficult to see people getting married and having children in the middle of the war. Well, truth be told, I didn't get that far because I purposely avoided it, but I made a point to enlighten myself on how it works (it's similar to Awakening), and it is a little bit odd.

But that's not a big deal. It is a video game based in fantasy. It's fiction. However, then we have a character that drops their weapon after a battle to do a sexy pose. We have characters that blush and smile in unfitting circumstances. Characters stick to their personality most of the time regardless of the situation: even if something bad just happened in the story. Granted, it's difficult to maintain parity amongst events that can happen at any time and story events, so I cut a little bit of slack on this, but at the same time, it's a war: people are always dying, and only so much is believable or tolerable.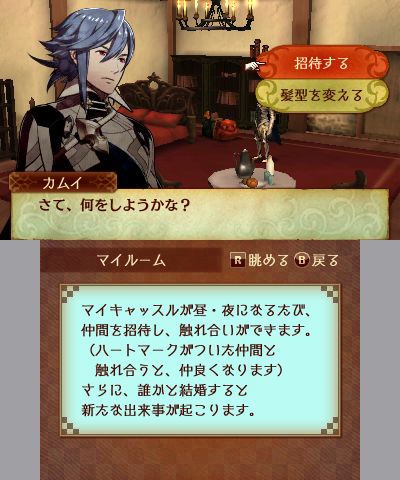 Then there's My Room, where you can touch/play with characters, which completely disrupts the atmosphere of a serious war and bonds amongst war comrades. In turn, it takes away from the immersion: I can hardly look at a character in-game the same after seeing them blush and say weird things. Does it bother me that much? No, not really, but every little thing adds to or detracts from the overall experience, including the "optional" things.

There's also the break of My Castle in general: the experience of shopping, forging, etc. is expanded more, which is nice in a way... but it doesn't feel like I'm shopping in the middle of the war. I mean, I'm essentially in my own dimension (I can't remember the exact explanation for My Castle), which is its own thing, but at the same time, isn't really optional or an extra... so while I did my best to minimize the effect of this, it also clearly played an important role in the game and I couldn't not let it detract from the atmosphere and immersion. I suppose these features in general just contradict a desire to focus on the events happening in the main story and really feeling invested in the characters and what they're doing. I can kind of get people talking in the barracks in Awakening, of course fellow soldiers are going to interact even if times are grim, but everyone just hanging out in another dimension in Nohr in a way that it almost seems like they're enjoying themselves is a little more awkward.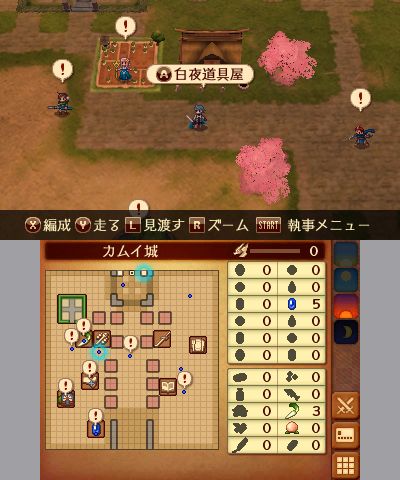 Looking at scenery is nice and I don't love menus or anything, but this didn't really add much to the game, it's just kind of there because it can be.
Maybe if there was a break in the plot or something—I think it's fine that characters enjoy themselves—or it fit the story-telling in general, it'd be less jarring, but it just doesn't seem to mesh well with everything else going on, and I have to wonder what IS's priorities really are and what kind of game they're really trying to make/sell here. It feels more like a spin-off, which isn't a flaw in and of itself, but it's only natural for a game to be compared to other entries in the series, or for it to have set a precedence. I also look at "what the game is trying to accomplish" and the fact that they hired a writer and commented on Awakening's poor story shows IS is clearly invested into making a good story, but they contradict themselves by implementing elements that conflict with each other. You just can't have everything in one game and you can't cater to everyone... and it feels like IS might be confused and unsure themselves of what they need to do. Unfortunately, even if I had an answer, it's not something I can share, and it'd only be one answer out of so many: I just hope they decide what they really want by the next game and stick to it (and make it clear: re-brand the game if you have to) so we don't have conflicting elements of atmosphere and immersion in the game like we do now.

Final Sub-Scores & Summaries:





Gameplay: ~7/10 - Has some excellent ideas and is more polished than Awakening, but also some very poor or poorly executed ideas. Balance and map design also fluctuate between good and bad.

Graphics: ~9/10 - A little too brown, models look a little awkward at times, but otherwise excellent and like Awakening, one of the best-looking games on the 3DS.

Story & Characters: ~4/10 - The plot and characters are mostly dull, shallow and uninteresting, with a few good moments. Ceases to impress or live up to what it was made out to be. In some ways, worse than Awakening's story and characters. The main character (Corrine, the avatar) is the biggest problem and drags the entire plot and characters down with him, but the entire vision is simply lacking in ambition, complexity, and execution. In other words, the game would greatly benefit from a much tighter and more developed narrative, and what is there isn't very enjoyable.

Music & Sound: ~8/10 - Good overall, but not very impressive or memorable as a whole. Music has a nice theme and identity to it, albeit melodies may sound familiar to Awakening or be obscured in the composition.

Atmosphere, Immersion, & Presentation: ~6/10 - Though the setting is excellent, it suffers from many breaks in the atmosphere and immersion as well as unnecessary extra features. As a whole, it's not presented very well despite having a good premise and lots of potential, and lacks the vision that a great video game generally has.

Final Overall Score: 7.4/10

When converted to a Metacritic score, this would be just under the rating for an acclaimed game: similarly, it's almost a great game, but has such major downfalls that it just doesn't make the cut.

Recommendations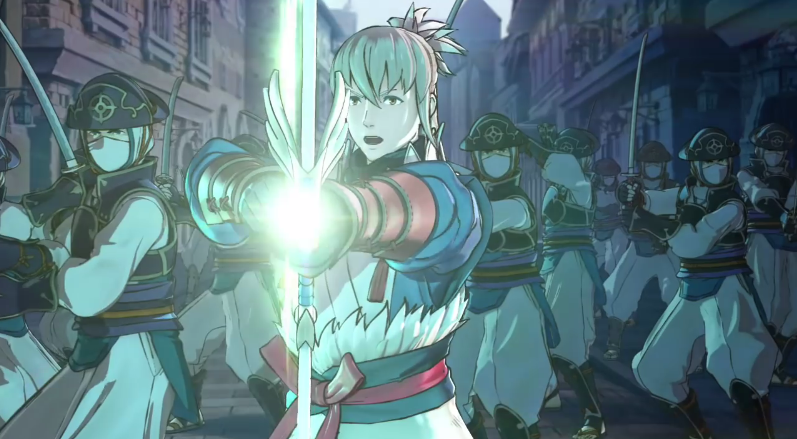 Go buy the game, or Takumi will hunt you down and shoot you. Just kidding.
These are just my personal recommendations, so take them with even more of a grain of salt than with the rest of the review. It's a reflection of who I think the game is suited or not suited to, but you might find it different, so if you're really unsure, I'd either A] hope there's a demo and get that, B] borrow the game from someone else, or C] just go for it and buy a route and if you don't like, trade it in to get your money back. I'm free to answer questions though, if you have any.

I recommend this to: people who liked Awakening and didn't mind the story or characters; people who are diehard Fire Emblem fans who can overlook other flaws for the gameplay, and can overlook the occasional bad parts of the gameplay; people who like an RPG with dating sim elements in general.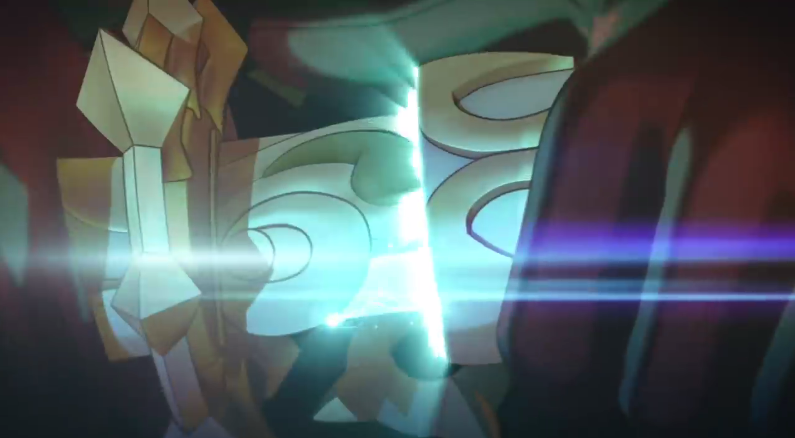 Make any sudden attempts to buy the game, and you will be cut down where you stand. Just kidding.
I don't recommend this to: people who didn't like Awakening very much; people who expect a great story or characters from an RPG; people who are diehard Fire Emblem fans sensitive to changes or new features that don't work/fit the game well; people who considerably dislike strategy RPGs or dating sims or aren't interested in a combination of the two; people who are particular about their hardcore games, because it likely won't please them; and people whose main focus of the game is to pick out female or male characters to dote on for reasons such as their looks, design or personality quirks, because that's what visual novels and fan service games are for, and Fire Emblem really doesn't do it that well compared to those games, so there's really way better waifus out there

.

That's it for my super extremely long review of the game! If you actually read all of that... wow. I'm kind of impressed. And honored. If you just read some of it, that's totally cool: the point of this review was to be extremely detailed but with minimal spoilers, because there have already been detailed breakdowns of the game WITH spoilers or ones that don't spoil, but don't actually say much, either. So yeah, it's super long, and written by an amateur, but that's the idea. Hope you enjoyed it~!