http://fav.me/d4zz76w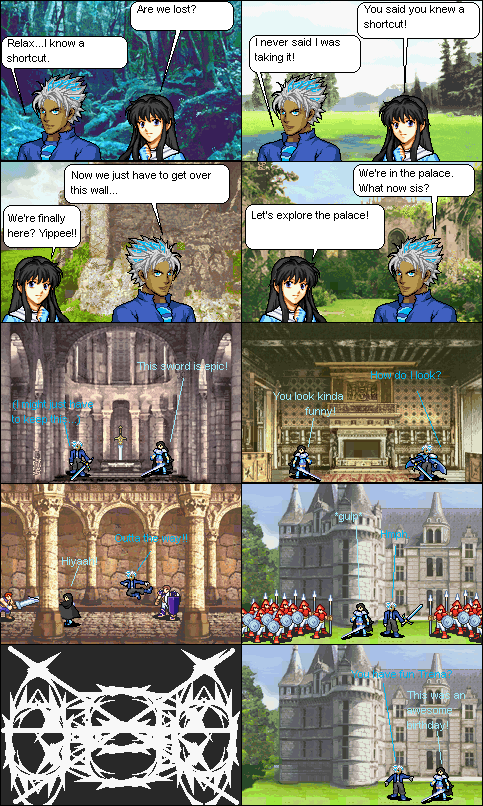 This is a comic I did for my sis Trena's B-day! XD
I decided to put the text here as well, in case you couldn't read it.
Panel 1- Trena: Are we lost? Arim: Relax...I know a shortcut.
Panel 2- Trena: You said you knew a shortcut! Arim: I never said I was taking it!
Panel 3- Arim: Now we just have to get over this wall... Trena: We're finally here? Yippee!!
Panel 4- Arim: We're in the palace. What now sis? Trena: Let's explore the palace!
Panel 5- Trena: This sword is epic! Arim: (I might just have to keep this...)
Panel 6- Arim: How do I look? Trena: You look kinda funny!
Panel 7- Trena- Hiyaah! Arim: Outta the way!
Panel 8- Trena: *gulp* Arim: Hmph.
Panel 9- *Arim Epicly Pwns The Soldiers*
Panel 10- Arim: You have fun Trena? Trena: This was an awesome birthday!
Notes: The Sword in Panel 5 is Alondite.
In Panel 6 Arim is wearing one of Prince Lyon's capes
The reason they're getting chased is because Arim took Alondite.
In Panel 9 Arim freezes time, pwns the soldiers, and teleports they're bodies back inside, because he's just that overpowered and epic. XD