Welcome to my sprite topic. Though, this sprite topic will be more like a museum, considering I don't sprite very often. When I do, it tends to be miniscule work or something that takes me very long to do. Basically, this won't get updated much. But, I invite you to look anyway. (Also, these are far from all of my works. These are just the ones relatively fitting to be posted.) (Be warned, there is an abundance of content in this post. Peruse at your discretion!)
(One note of forewarning. A large majority of these sprites were made just for the recreational purpose of *spriting*. If you're looking for stuff for hacks, you're primarily out of luck (though, I do have a FEW things that would be hack-ready).)
(Older works have been Spoiler Tag'd to reduce the number of images to be scrolled through.)
First, down aisle one, we have one of the less interesting pieces to be displayed in here.
Set 1 (Click Here To Hide/Show Text)
Nothing really special about this one, aside from the spell effect. Probably my favorite one that I've done.
(Individual components for the effects were taken from across the web.)
Next, down the start of aisle two, we feature three scenes all using a template that I worked on a long time ago.
Set 2 (Click Here To Hide/Show Text)
The template can be found here
.
The first features a "custom" spell effect made from Gespenst, Bolting, and a spell effect from an RPG Maker sheet. The second features (a bad) Eltosian sprite fighting against an "OC" Master Knight, using an Axe. I personally like the "mist" efffect that was made by Colorizing the wind effect from Excalibur. Fire Emblem could do with more weather effects in general, especially in battle. The final scene is the most recent, and the Rexcalibur effect was made by Miskantdhur. I like the scene, but it would have been nice to see Elaine's sprite instead.
Now, looking at aisle three, we have two battle sheets that were made for a long dead hacking project (well before FEditor Adv's custom animation builder - back when you had to overwrite animations). They were based on a character that was using a mug reminiscent of Tiltyu from FE4 and were supposed to be a Cleric -> Bishop. Thus, the following sheets were made:
Set 3 (Click Here To Hide/Show Text)
I still like these, and if I wasn't always busy, I'd think of making actual custom animations for it instead.
Down the next aisle of antiquities, we have a more recent battle scene and template that I've done. Modeled after the Kirby series, a decent amout of the work on this was done from scratch, while looking at reference images.
Set 4 (Click Here To Hide/Show Text)
The template can be found here
.
If you seen me around, you've likely seen the first image before, since it's been in my signature on various boards from time to time. I do like the scene, largely because I'm a snow kinda guy.
Following this theme, we now have come across a statsheet template based around the Kirby series. This is done less from scratch, with only some individual components being done as such:
Set 5 (Click Here To Hide/Show Text)
Template can be found
here
.
Mage Knight 404 made the face sprite of Lucia. Similarly, Black Dragon created the face sprite being used as my personal face sprite.
Also featured are some random bits and pieces done with varying templates:
Made with Mage Knight 404's A Sacred Dawn battle template
.
Made with VincentASM's FEDS battle template
.
Current statsheet at SF, made with VincentASM's FE10 statsheet template
. (Note: Black Dragon made the face sprite.)
You can check these out at your leisure.
Also, here's a link to my
Custom Weapon Icon Tutorial
, if that kind of thing interests you.
Next, we have three sets of weapon icons spanning a large portion of my spriting career:
First up, a generic compilation image. As with the above post, a
large
chunk of these icons are not natively GBA-friendly. If you see something interesting, let me know and I could possibly convert it.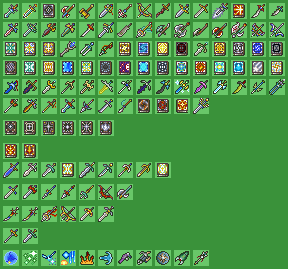 - The first six rows comprise icons that I've done mainly for my personal use in battle scenes, statsheets, etc. A decent handful of the first couple of rows were icons for a hack project that I had been working on as part of a group before it died due to the project lead disappearing from the internet for a long time.
- The next row are GBA representations of the FE10 Dark Tomes (minus the last one, which should have been in the first set).
- The next group of two rows are icons that I've done for Mage Knight 404's two ROM hacks, FE404 and FE: A Sacred Dawn.
- The row below that contains icons that I made for Blazer a couple of years ago for his hack, PoD.
- The next row down has icons that I made for flyingace24 and his hacks.
- The row with two icons contains icons that I made for someone who decided to have the daunting task of running a FE map RP and creating statsheets for all of the allies and enemies that appeared on each map. Needless to say, it died off before I could ever finish the icons for it.
- The last row contains icons that I've made that don't fit anywhere in the FE style of icons.
Next, a compilation image of icons converted from FE9 to FE6/7/8 style icons: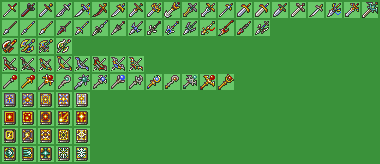 This one is pretty self-explanatory. I never finished the sheet, mainly because Axe and Bow weapon icons tend to make me very aggravated (mainly Axe, but some Bows can be a pain). These should all be GBA-friendly, unless I happened to glance over one of the icons when I recompiled all of the ones I had done a few years ago.
Finally, one of my more recent accomplishments, a sheet of recreated FE4 Holy Weapon icons, in FE6/7/8 style:

These were made for my pal, seph1212, for his FE8 hack that he is working on. They're mainly based on the artwork on Fire Emblem World for the icons, with the only exceptions being Gae Bolg, Gungnir, and, IIRC, Balmung. Aside from the notching on Ichival's arrow and the tome book structure, everything was sprited from scratch.
Lastly, templates related to seph1212's hack, FE4: Rebirth/Resurrection: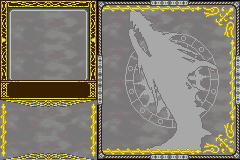 (Finished.)
(WIP)
(On the second template, even though it can't be inserted as is, I would still like advice on the following:
- I primarily want feedback on the shading of the "castle towers" that will be the "name" box for the characters. There'll be more added there (to make it more readable and such), but I wanted to get the basic shading down first.
- I'm looking for opinions as to whether I should put some kind of design or something over top of the red/blue area where the HP values and bars are at. I've tried to come up with something, but I can't think of a good design that fits and my free drawing doesn't really accomplish much that looks nice.)
Thanks for visiting LG's Sprite Warehouse!